The following market statistics are sourced from the Northeast Florida Association of Realtors (NEFAR) data.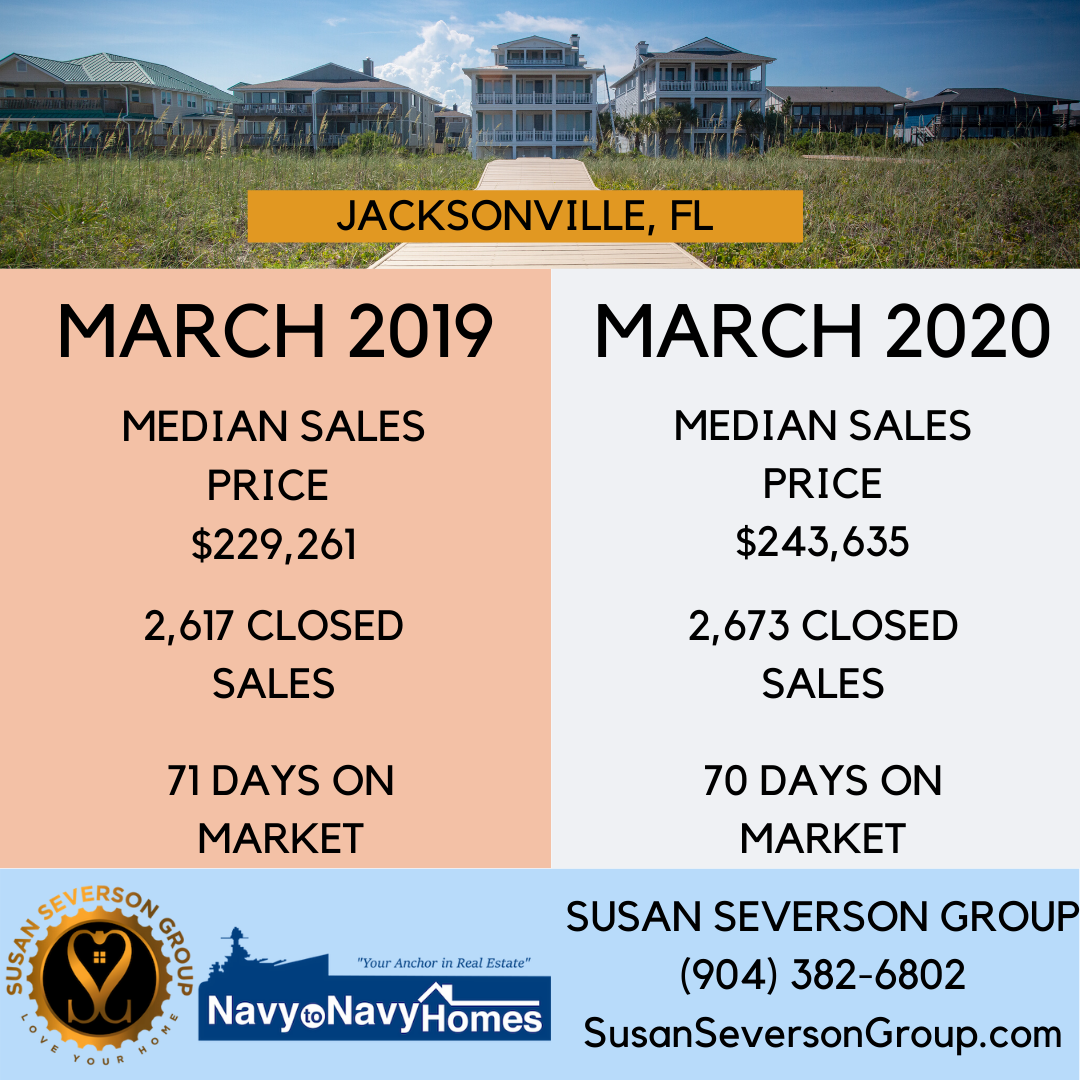 Sales closed 2.1% higher than a year ago, with a total of 2,672 closed sales in March 2020.
Sales prices also saw increases, with the average sales price coming in at $287,210, which is a 6.7% increase over the 2019 average sales price. The median sales price increased 5.9% year over year, to $243,635 in March 2020.
Days on market remains mostly static: 70 days on market in 2020 vs. 71 days on market in 2019.
Inventory took the biggest hit: a 15% decrease in available homes for sale. At 8,375 homes for sale, that equates to just 3.1 months of inventory on hand, vs. 3.9 months of inventory on hand in March 2019. That reduction in inventory represents contraction in the market, and further solidifies the NEFAR market as a strong sellers market. In fact, 14.2% of properties sold for more than their original listing price in March 2020.
Mortgage rates were relatively volatile in March 2020 due to the stock market reaction to COVID-19, but as of March 31, the average rate for a benchmark 30-year fixed mortgage was 3.84%. That was up from the February 2020 average of 3.55%. At the March 2020 average rate, you would pay principal and interest of $468.24 for every $100,000 borrowed. (Source: Bankrate.com)
In summary: the NEFAR housing market remained robust throughout March 2020, but sold inventory was not replaced at the same pace as 2019, signifying a market contraction. Expect to see the effects of COVID-19 more clearly in the April 2020 market stats. As the coronavirus shut-down takes its toll, buyers with great credit (minimum 660 credit scores) and steady employment are best positioned to take advantage of the remarkably low interest rates.