In honor of Black History Month, every day this month I am going to highlight one African American woman who broke down barriers in a STEM field.
February 1, 2019: Bessie Coleman, Aviator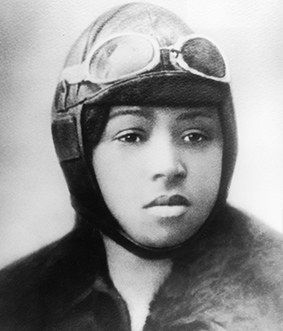 This is Bessie Coleman, born in 1892 in Texas to sharecroppers, Bessie was of both African American and Native American descent. Bessie grew up working in the cotton fields, and she loved and excelled in school, but she was constrained to only 8 years of school in a one room schoolroom that was closed when cotton harvesting was required.
As an adult, Bessie worked as a laundress and saved everything she made, which allowed her to attend one year of college at Langston University in Oklahoma, until her funds were exhausted. By 1915, Bessie was living in Chicago with her brothers, who had served overseas in WWI. Bessie had always had huge ambitions and said she would make something of herself one day, so her brothers would tease her that French women could be pilots, but Bessie never could as an African American woman living in the U.S. It was now 1920, and Bessie knew she wanted to be a pilot. She applied to many aviation schools across the USA, but none would take her, as her brothers predicted. There were no African American pilots in the area and no white pilots willing to teach her, so Bessie found a willing sponsor in Robert Abbott, an African American publisher who encouraged Bessie to go to France to learn to fly. Bessie took French lessons in the evening so that she could fill out school applications in French, and was accepted to the Caudron Brothers' School of Aviation in Le Crotoy, France. On June 15, 1921, Bessie earned her international pilot's license from the Federation Aeronautique Internationale. She spent the next year traveling Europe, performing in air shows, and expanding her knowledge.
By 1922, Bessie returned to the U.S. and was performing in air shows and booking speaking engagements where she would encourage African Americans, especially women, to learn to fly. Bessie refused to speak anywhere that was segregated to African Americans, and her dream was to one day open a flight school for people of all races. In 1925, she was asked to perform in an air show in Texas, but the stadium would have had one gate for African Americans, and one for whites. Bessie refused to perform unless there was only one gate for everyone, and the organizers acquiesced. Bessie's tenaciousness and daring aerial feats earned her the nicknames "Queen Bess", "Brave Bessie", and "The Only Race Aviatrix in the World".
Unfortunately, Bessie's beloved aviation career would end her life on April 30, 1926, at the age of 34. The plane she had finally been able to buy herself had a mechanical failure and tipped over mid-flight. It had no canopy and Bessie was not wearing a restraint, and she fell out of the plane. There were three funerals held in Bessie's honor; the last one in Chicago was attended by thousands of mourners. The Bessie Coleman Aviators Club was formed in 1977 by African American women pilots. In 1995, the U.S. Postal Service issued a stamp commemorating Bessie Coleman.